A new audio streaming service, updates of Pleroma, Peertube & others.
Banner of the month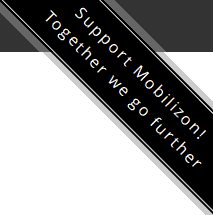 You may not have seen it if you are browsing from a mobile device, but there is a banner in the top-right corner of our web page. We are using this space it to advertise on endeavours and projects of interest.
This month we are promoting again the Courage Foundation, an international organisation that supports those who risk life or liberty to make significant contributions to the historical record. Courage Foundation fundraise for the legal and public defence of specific individuals who fit these criteria and are subject to serious prosecution or persecution. They also campaign for the protection of truthtellers and the public's right to know generally.
The Courage Foundation is currently mobilised to fight the extradition of Julian Assange to the US. We encourage every one to raise awareness around you, and wholehearteadly recommend reading In Defense of Julian Assange.
"This book shows why the Julian Assange case is one of the most important press freedom cases of this century or any other century." — James C. Goodale, former Vice Chairman and General Counsel of The New York Times.
The first part of the trial for extradition took place in Belmarsh high security prison from February 24th to 27th. The UK government is doing everything it can to minimize the stakes of Julian Assange's trial: the trial of Free Press.
Many artists and hundreds of journalists have petitioned to put an end to the persecution and the ongoing travesty of justice being organised in the UK against the journalist.
Achievements
Website
Nothing new here!
Services
Host your music on Nomagic! And back it up locally

, because the files will not be part of our weekly backups

.
We have been working on adding Funkwhale (the link will bring you to the official website of the project) to our catalog in early February. This included reworking the provided Ansible playbook, which eventually lead to increase the number of setups the playbook can support. Eliot, who is at the origin of the project and its main developer, was nice enough to mention this in the Funkwhale blog post of the week.
So here it is: our Funkwhale instance is up and running, and you can connect and inter-connect your libraries with people on the Funkwhale federated network!

A first draft of documentation has been written and is available to our users here. Each Nomagic user will have 3 GB available to store their music.

We highly recommend to use the standard & open format Ogg Vorbis, which also provides a better quality/size ratio than proprietary mp3. Look into the wiki documentation for how to transcode a CD or FLAC file into Ogg Vorbis.
Backup storage restriction on Funkwhale will be active until we move to a different storage backup solution.
Application upgrades
The following applications were upgraded to their latest stable version this month:
Backend
We are a bit behind on our continued efforts to upgrade our machines towards Debian Buster. Yet still, important maintenance will show in advance on our calendar, which you can follow if you want to by following the ical feed.
Bugs and issues
We are still experience hiccups on Lufi once in a while. We lowered again the number of threads to hopefully fix this issue.
It is still impossible to follow a Peertube account from Pleroma. Comments tends to work, though we are also facing some loopback issues between Nomagic's Peertube and Pleroma, which we need to finally pinpoint and fix.
Finally, more of a known issue, indirectly associated with our new audio streaming service. When using recommended app UltraSonic on Android /e/, we are experience failures to play cached songs. It does not always happen, and looks like a bug, but we are currently waiting for a feedback from our /e/ issue.
Testing on stock Android did not reveal issues.
Coming up
Our road map now includes:
Short-term objectives
Monitoring Lufi (still flaky)
Follow up Pleroma issue to follow Peertube accounts
Install a dedicated server to implement gitlab CD/CI functions (through gitlab-runner)
Mid-term objectives
Update all servers to the latest release.
Keep on implementing security/privacy policies
Nick has accepted the task to get Mobilizon up and running. Though still in Beta, we can't wait for this large-scale, federated alternative to Facebook events!
Long-term objectives
implementing Single Sign-On (SSO) so that Nomagic users won't have to authenticate on each and every service in their Web browser.
---
Icons made by mavadee from www.flaticon.com is licensed by CC 3.0 BY
The Funkwhale logo was designed by Francis Gading. The logo is available under strict usage rules.