/e/, a new 'Web tests' section, and latest news from the backend front.
Banner of the month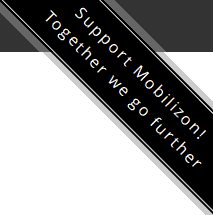 If you are browsing from a mobile device, you may not have seen it, but there is a banner displayed in the top-right corner of our web pages on medium and high screen resolutions. We are using this space to advertise on endeavours and projects of interest.
This month we are promoting the e foundation and its main product, the FOSS mobile operating system /e/.
e foundation is a non-profit entity whose main goal is to provide an Android-like mobile operating system completely free of Google products. /e/ is a fork (i.e. derives from) of LineageOS, itself a fork of Android. LineageOS comes with several improvements over the stock versions of Android, and is free of all the usual useless and potentially dangerous apps shipped with a phone manufacturer or a service provider.
/e/ made some changes from LineageOS in the choice of default apps and behaviours, but the main change is the implementation of MicroG, a free and open-source implementation of Google APIs, required by many apps to work properly.
/e/ started with a crowd funding in 2017 initiated by Gael Duval, a FOSS enthousiast who is known for having created one of the first GNU/Linux distribution (Mandrake Linux). The /e/ project is still running at a fast pace, with frequent updates and quick feedbacks on the community forum.
Bugs and issues
While doing online testing on our Email and WordPress services, we found out that the SEO Yast plugin on WordPress, when active, could lead to revealing the logins used to connect to the WordPress administration page. As a result we have decided to remove the 'default' installation of this plugin and have added a note on it in the wiki.
We had a temporary DNSSEC issue while renewing our keys, which lead to DNSSEC verification failing if you were using a DNS server with older cache. This resolved fully within 48 hours and we will be more careful next time to wait for the recommended 3 days before activating the new keys.
Achievements
Website
We have added a new web tests page, available in the footer of any page. This page shows how we are doing when testing our services via external Web testers. Please note that we are not affiliated with any of those tools.
Services
We found time to install an instance of Pleroma, a micro-blogging instance (think Twitter if micro-blogging sounds vague) that can inter-connect with other servers. There will be more on that in a special post dedicated to it once we finish setting things up and writing the Nomagic user documentation on it, so stay tuned!
We have enabled email subscription on our Cachet instance, used to check the status of our services.

alternatively, you can subscribe to Nomagic's status feed (think Tiny Tiny RSS) by adding the following URL to your feeds: https://rss-bridge.nomagic.uk/?action=display&bridge=Cachet&host=https%3A%2F%2Fstatus.nomagic.uk&format=Atom
Application upgrades
The following applications were upgraded to their latest stable version this month:
Backend
Our implementation of parsedmarc is running steadily and provides us with a nice and easy way to check that Nomagic emails are top notch.
In parallel, we have also enabled sending our own DMARC reports now, so that remote mail servers can also know how our mail server is 'assessing' the emails it receives from them (if they ask for it).
We have been monitoring those for a couple of weeks now, and everything looks fine so far.
Coming up
Our road map now includes:
Short-term objectives
Complete OCSP stapling for all Websites
Keep on implementing security/privacy policies
Once testing is validated, move our MTA-STS policy to a production profile.
Finish our implementation of a micro blogging service before the official announcement in a dedicated post.
Mid-term objectives
Update all servers to the latest release.
Long-term objectives
implementing Single Sign-On (SSO) so that Nomagic users won't have to authenticate on each and every services in their Web browser.
---
Icons made by mavadee from www.flaticon.com is licensed by CC 3.0 BY